Subscribe to our Funeral Directors' Blog for practical tips on online marketing, digital strategy and social media – all tailored to the funeral industry.
---
SEO. It's the new buzz word in the funeral industry.
Everyone wants it, many are spending money on it, and only few are getting results. One of the reasons for this is that most are taking a box ticking approach to SEO. Freelancers and agencies can (and will) do that for you, but what they lack is an understanding of the funeral industry and specific strategies you can take to establish a real advantage.
To get the most out of SEO, you need to understand the basics. And we'll cover that. But you also need an industry specific approach. That's why we've crafted this SEO guide specifically for funeral directors.
What is SEO?
SEO (or search engine optimisation) is the stuff that people do to get to number 1 on Google. But what exactly is that "stuff"?
Search engines have extremely complex algorithms to determine which websites they display for any given search. Google for example has over 200 factors it considers to rank search results. So "stuff" refers to all the different things we can do to appeal to those 200+ factors and achieve the most favourable search results.
Once upon a time, it was possible to trick search algorithms into giving you the #1 spot. For example by writing your keywords over and over again and buying hundreds of backlinks from spammy websites. These practices are known as "black hat SEO" and result in poor experiences for visitors.
Thankfully, most of these practices have been stamped out as search engine algorithms continue to improve. While it's incredibly technical to get into everything that makes SEO tick nowadays, the important thing to understand in all of this is that search engines are seeking to put the best content and websites in front of viewers. So as a golden rule you should always write content, and build and structure your website for people – and not for algorithms.
Why is SEO Important?
Every day, over 2 million new pieces of content are posted online. That's a lot of content – and unless you have an SEO strategy you're going to get lost in the heap. Combine that with the fact that the top 5 results in Google get a whopping 67% of all clicks and getting your SEO right starts to have significant implications for your business.
How do you rank? To run a quick check, go to SERPS and test your site ranking.
As you can see below, our own SEO strategy is getting results. Our website is now in the number 3 position for "top funeral directors in Sydney", placing us above one of our key competitors, the Yellow Pages.
We achieved this result relatively quickly (in around 2 months) which is fast considering that a recent study of over 2 million keywords by Ahrefs found that the average age of pages in the top 10 Google positions was 2-3 years.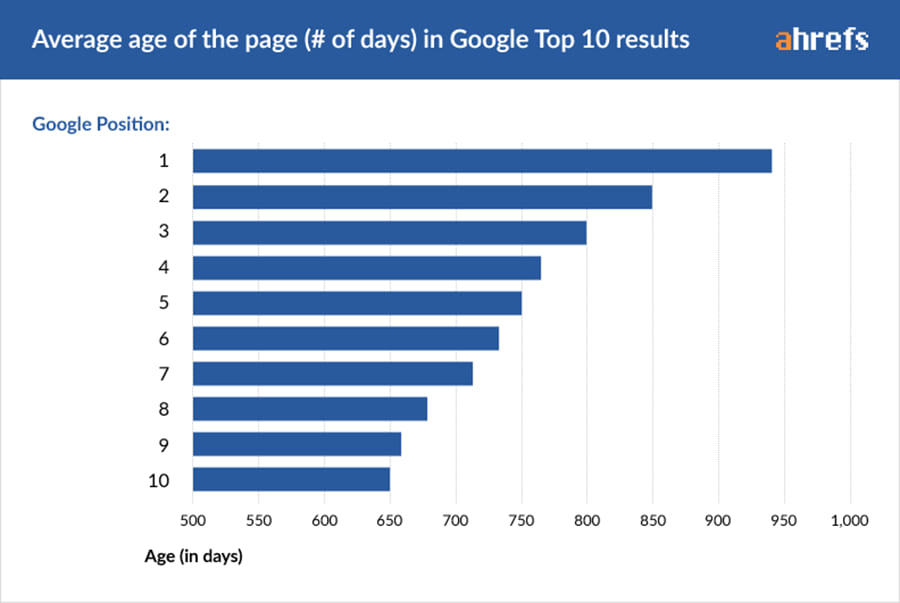 While we're confident that by following this guide, you'll see results faster than 2-3 years, it underscores the importance of having a long-term mindset for SEO. If you can commit to regularly working on it, the rewards are huge.
Broadly speaking, there are 2 categories of SEO:
On-Page SEO – which are things you can do on your own website to improve your ranking
Off-Page SEO – which are other factors not directly in your control that impact ranking (such as other websites linking to your website and social shares of your content)
---
Part I: On-Page SEO
Discussing everything you could do to improve on-page SEO would take hundreds of pages and not all of it would be relevant to the funeral industry. We've boiled it down to 6 practical tips and strategies you can work on today.
1. Identify Your Keywords
Research
Ask yourself, "What do my customers type into Google when they're looking for funeral services?" and make a list of your keywords.
Once you're done you can use a keyword research tool, like the Google AdWords Keyword Planner to uncover additional related keywords.
Example: Funeral Director in Melbourne
Let's pretend you're a funeral director in Melbourne. One of the first Google searches that comes to mind is "funeral directors melbourne", so let's plug that into the Keyword Planner:
The results are interesting:
We've confirmed that "funeral directors melbourne" is indeed the highest searched term with over 1,000 monthly searches
Some keywords aren't as relevant, like "funeral notices melbourne" and "funerals melbourne tomorrow"
Importantly, we've uncovered additional related keywords, including some that we may have missed like "green funerals melbourne" and "direct cremations melbourne"
Which Keywords Should You Focus On?
You can literally compile a list of hundreds of keywords, but the key question is which keywords should you focus on and where?
Generally speaking, you want to target keywords with high search volume and low competition. However, that's not always possible. There's no getting around the fact that if you are a funeral director in Melbourne you'll need to compete for those core keywords, and the right place for that is on your Home and About Us pages.
For more peripheral keywords, like "green funerals melbourne", you could set up a dedicated page outlining your green funeral services, or target these keywords in a blog post. The reason you want to separate these out is because combining too many keywords on a single page sends mixed messages to Google about what is important on that page and will most likely dilute the ranking for all of them.
Keyword Tips:
Include your location(s) in your keywords
Avoid keyword stuffing
Write naturally in a way that is most helpful to your audience
Aim for around 2% keyword density
2. URL Structure
One of the ways Google figures out what a page is about is by looking at its URL. Where possible, your URL should contain your exact keyword phrase separated by hyphens.
For example, in our blog post on The Average Cost of a Cremation in Australia, we made sure to include this full keyword phrase in the URL.
3. Title Tags
The title of a page appears as the clickable blue link text in Google results. Similar to URL structure, Google gives a lot of weight to titles as an indicator of what the page is about, so it's important to include your keywords.
In the example below, we can see that Elysian Fields has correctly included the keyword "Brisbane" in their title to optimise for local results.
Tip: Keep your title to under 55 characters.
4. Subheading Tags
While not quite as important as the title, subheadings are also relevant as they help Google understand the context and structure of the information on the page. For more information on the importance of subheadings and structuring content on a page, see our article on 10 website tips for funeral directors.
Each page should only include one title or H1 tag, but can have multiple subheading tags (H2 to H6). To check whether your website is properly using title and subheading tags, you can highlight a heading, right click and select "Inspect" to reveal the html code.
As you can see in the example below, Elysian Fields have correctly used the H2 tag by enclosing their subheading in the <h2> </h2> tag.
5. Meta Descriptions
Stick with us.
It sounds complex, but a meta description is simply the short description that appears under the page title of a Google search. If you don't provide Google with a meta description it will automatically grab information on the page and truncate the result.
Here's the html meta description of our post on cremation costs:
And here's how it displays in Google as the #1 search result for "cost of a cremation":
Why Are Meta Descriptions Important?
Quite simply, to entice customers to click on your website. When your funeral home is shown in a list of Google search results, it's your chance to get a customer to click on your website. You want to make sure the description of your services is perfectly crafted to give you the best chance of winning their click.
To check whether you have an optimised meta description, just search for your funeral home in Google.
Here's an example of a well crafted meta description which highlights this funeral home's family ownership, best service, and locations.
In contrast, here's an example of a funeral home without a meta description. As you can see, Google has randomly scraped together the description from text on the page resulting in a jumble of information.
Which funeral home would you click on?
6. Start a Blog
Our final tip for funeral directors on the topic of on-page SEO is to start a blog. You've probably heard this before. And you've probably thought, "Really? What the heck is writing a blog going to do?" Two things.
a) Target Peripheral Keywords
A blog allows you to write articles that target important keywords on topics that may not warrant having their own standalone page (such as "green funerals melbourne" from the example above).
The funeral industry is a good example of an industry where, with a bit of research, you can find a lot of valuable "longtail" keyword phrases. Longtail keyword phrases are search terms that are longer and more specific but have much less competition. For example, while 'funerals melbourne" is a popular and extremely competitive search term, "funeral flower etiquette" is much less competitive but still attracts a decent 40 searches per month.
Doesn't sound like much, but do the math: Write 10 articles that rank well on longtail keyword phrases and you can sustainably attract an additional 400 customers each month.
b) Fresh Content
A blog allows you to continue posting "fresh" content on your website, something that Google values highly when ranking websites. Without a blog, most funeral home websites are stagnant. They have basic information about their services, history, locations and products. This information rarely changes and no new pages or posts are added.
So blog, and blog regularly. But about what?
Crafting content, and building a content calendar and strategy is a whole topic in itself (which we'll cover in the future), but some ideas for content include:
Funeral industry news
Business announcements
Behind the scenes photos that give families insight into your culture and values
Highlighting unique funeral services you've arranged
Participation and support for community events and charities
And of course, strategic topics that you're targeting specifically for SEO
Blog Tip: Don't copy other people's content. While you can borrow ideas and repurpose information, you should never directly copy and paste another site's content as it can result in ranking penalties.
Easy Win: A simple thing you can do to keep your website "fresh" is to add a Funeral Notices section to your website. Updating this section for your new services not only provides value to customers, it also helps Google see that your website is regularly being updated.
While there's a lot you can cover when it comes to on-page SEO, the good news is that all of it is in your control.
---
Part II: Off-Page SEO
Off-Page SEO refers to the factors Google looks at to determine rank that are not in your own hands but depend on other sources, such as other websites and social networks.
Again, there's a lot of content we could cover here, but we've boiled it down to 2 key actionable items.
1. Backlinks
Backlinks are links from other websites to your website and they play a huge role in how Google ranks you.
Why? Think about it. When you link to a webpage, you're essentially endorsing the content on that page as well as the website generally. For example, if you were writing an article on different types of soft drink, you might include a link to Coca Cola. Google sees that as a tick in Coca Cola's favour.
But not all backlinks are the same. The authority of the website providing the backlink is incredibly important. So if Coca Cola received a backlink from the NY Times, that would be more beneficial for their ranking than if they received a backlink from foodanddrinksnoob.blogspot.com.
Earning backlinks can be hard. It's not something that happens overnight. You have to stick with it and regularly dedicate time to getting them.
To get you started, we've listed out some of the easiest ways for funeral directors to get backlinks below.
Business Directories
There are hundreds of free and paid business directories that you can list your funeral home on. This list from the Marketing Mix is a useful starting point and even includes a spreadsheet which you can use to check off your progress as you go. Start with the most trustworthy local and Australia-wide directories, like Yellow Pages, True Local, Yelp and Hot Frog.
Tip: Don't go overboard with directories. Listing your business on low quality directories can actually damage your SEO. You can tell which directories are good because they'll have an editorial team that reviews and approves submissions rather than accepting every single submission.
Forums
Forums like Whirlpool and Quora provide an opportunity to answer questions from other forum members in a way that's not too "salesy" and include a link to your website.
It's true that business directories and forums are having less of an influence on SEO as Google continues to move away from "unearned" backlinks, however, there is still benefit in these backlinks where they are authentic and helpful.
Local Businesses
Links from other local businesses and organisations are important as they boost your ranking for local searches. As funeral directors you work in, and closely with, the community. Make a list of those who you cross paths with frequently and ask them for a backlink. (Note: They don't necessarily have to be related to the funeral industry.)
Online Newspaper Notices and Online Memorials 
When you put up an online notice in a newspaper, if permitted you should include a link to your website along with the other contact details of your funeral home. Most newspapers are highly reputable websites and pass on valuable link authority when they point to your website.
Similarly, if you use an online memorials service like imorial and Heaven Address, they often provide a space to insert your website for each memorial.
By routinely adding your website to these types of posts on third party websites, you can quickly scale up genuine backlinks to your website.
Tip: When building backlinks it's important that they are "follow" links and not "nofollow" links. A "nofollow" link is one that doesn't pass on any positive influence to the linked website. Some websites and forums will automatically convert links to "nofollow" links. As you can see in the example below, the Sydney Morning Herald Obituaries automatically do this.
Copy the Competition
Finally, one of the best ways to build meaningful backlinks to your website is to analyse competitor websites to find the friendly sites that link to them and then approach those sites to see if they'll also link to you.
Moz Open Site Explorer lets you type in any website and will produce a report of all backlinks to that website.
Let's look at an example of a top 5 ranking funeral home in Melbourne. After typing in their website URL and clicking 'search' – voila! – we have a list of relevant and friendly websites that will probably link to you if you ask them to.
Warning: Building backlinks is about earning endorsement from high quality websites. You should never engage in spammy or "black hat SEO" such as posting throwaway comments on unrelated blogs, paying for backlinks or listing on poor quality directories. At best, this type of strategy won't have any impact on your website and at worst, it will permanently damage your ranking. Beware of any agencies who offer to build up your backlinks using this strategy.
2. Local Presence
As a funeral director, you want to show up in search results in the areas that you service. One of the easiest things you can do is set up a Google My Business account. Completing your account not only improves your Google ranking, it also automatically ensures that you show up on Google Maps, local search queries, and creates a "business snippet" when customers Google your business.
Conclusion
We've covered a lot of technical content in this guide. While it can be overwhelming to get your head around everything at first glance, the most important thing is that you remember the golden rule we mentioned in the introduction: SEO is about providing a great experience for people who visit your website and browse the internet generally.
So whenever you're thinking about improving your SEO, ask yourself if what you're doing is valuable:
Is it valuable to re-write my home page with the words "Funeral Directors Melbourne" in every heading and paragraph?
Is it valuable to write a comment including a backlink to my website on a blog post about cats?
Is it valuable to add my funeral home to a business directory that is full of junk listings and isn't actually used by any genuine customers?
If the answer is "no", don't do it. You'll soon discover that there are no shortcuts – SEO has to be earned. For many funeral directors it might not be possible to spend thousands of dollars on a professional SEO agency or put in the many hours required to do it themselves. And that's OK.
In a large part, it's why our website exists. We spend every day working on SEO, content marketing, social media and digital strategy so that funeral directors don't have to. Listing on our website means that your funeral home is seen by thousands of customers each month, regardless of whether or not you're in the top 5 search results in Google.
We hope you've found this guide helpful. If you have any SEO questions, feel free to contact us at support@gatheredhere.com.au or leave us a comment below.
---
With over 8,000 customers searching for funeral services each month, Gathered Here is the most cost effective way for funeral directors to be found online. Sign up for a Premium Listing today and get 10x the number of online leads.